The Howe Sound / Átl'ḵa7tsem Marine Reference Guide hosted a Zoom event with SeaChange Marine Conservation Society and Bowen Island Municipality called 'Stories from the Bay'. It was an evening of storytelling about Kwil'akm / Mannion Bay with memorable tales from the community and presentations from people who are protecting and restoring the Bay. This event built upon the work of many who have come before us who have dedicated their love for the Bay.
If you missed the event and you would like to check it out, you're in luck! Click below to watch the recording.
Map Series of Kwil'akm / Mannion Bay
Since we're all about using maps as one tool to strengthen awareness about the ocean and connect with what's underwater, Willem Van Riet, our GIS analyst created some maps of Kwil'akm / Mannion Bay. Being the southernmost estuary in Howe Sound / Átl'ka7tsem it's a pretty iconic and busy place in terms of human use and biological activity. As promised during the event, here is the map series if you'd like to dive in and take a closer look! For all maps in a PDF version click here → Mannion Bay Map Series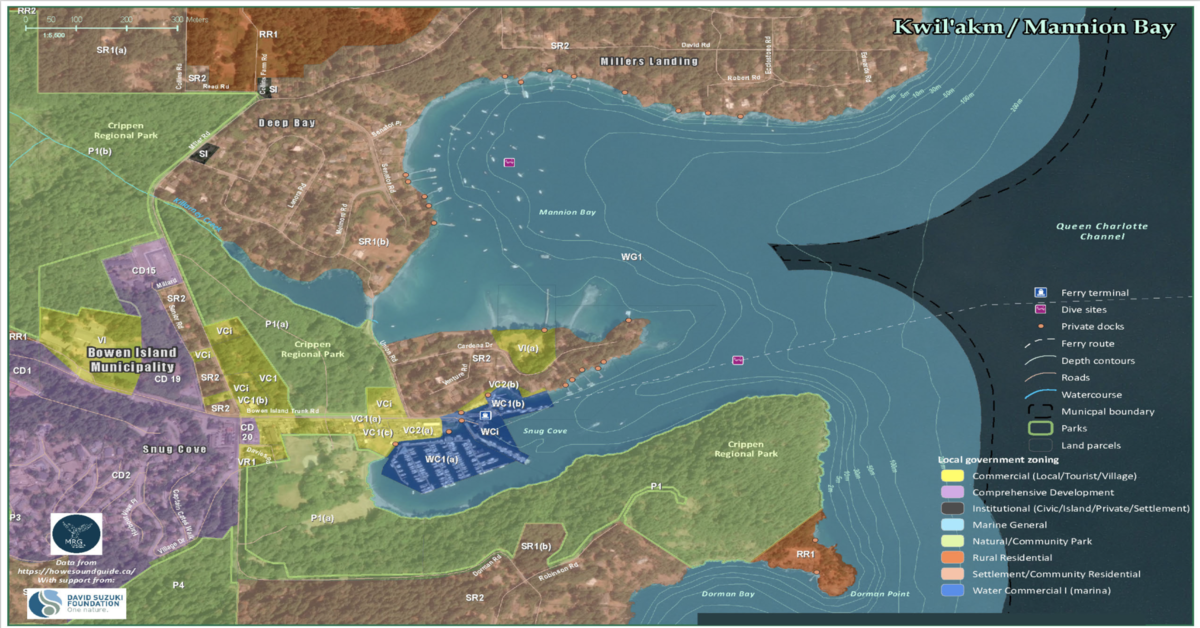 Thank You!
Thanks again for all those who joined the event! We are truly grateful for this community and the inspiring messages that you shared with us about the Bay. We hope that you feel as we do, that our region's nature and communities are something very special. However, there's still lots to do to continue protecting them and continue this positive trend of recovery, reconnection, and revitalization. So if you have any questions, ideas, insight, knowledge or emotions that you want to share with our project and community, PLEASE get in touch! We are always available through our website, our Facebook page, and of course e-mail. Your input is what makes our project meaningful and successful, and what will help continue to protect the Sound.