As winter slowly gives way to warmer days, there is new movement in the water. From February to April, Pacific herring (Squamish name: Slhawt', Latin name: Clupea pallasii) return from the open ocean to Howe Sound/Átl'ka7tsem to spawn. Slhawt' lay their small eggs (Squamish name: ch'em'esh) on submerged vegetation, often kelp, in shallow waters. If you are lucky, you may spot egg-laden kelp slowly dancing in the tidal waters. Lucky, because the herring are slowly starting to return from a devastating population crash, caused by years of industrial pollution, habitat destruction, and overfishing. Where once the waters were abundant with these small silver fish, it has become a rarity to spot them. Only in the past few years do herring seem to be returning to successfully spawn.
One citizen scientist, John Buchanan, has been keeping watch over these changes. For years, he has collected data on herring spawning in Howe Sound/Átl'ka7tsem. His work is now being continued by the Marine Reference Guide, the Squamish Nation, and Cultural Journeys. This passing of the torch from older to younger citizen scientists is incredibly important to sustain the meaning, value, and impact of long-term ecological monitoring projects like this one.
The Marine Reference Guide team comprises Squamish Nation youth, Jonathan Williams and Nolan Rudkowsky, and Project Director Fiona Beaty. The dedicated team has been going out into Howe Sound/Átl'ka7tsem with Matthew van Oostdam from Cultural Journeys and a rotating roster of volunteers to seek out ch'emesh and survey the herring spawn. With two people in a boat and a swimmer, they have been looking for new spawning sites, returning to old spawning sites, monitoring the egg health and development, and taking egg counts. It is a long, tedious and often cold process, but equally important, inspiring, and invigorating!
Slhawt', pronounced th-lao-t, are not only a key forage fish that help support the local food web, but are also culturally important to the Squamish Nation. Jonny shared a story from his grandma, that the herring used to be so plentiful she could walk to the water with a pail and easily scoop up a bucket full of fish. Herring and their eggs, ch'em'esh, are part of the traditional Squamish Nation diet, and were often traded with other Nations.
Being able to participate in research that will help the herring return to their traditional territories is something that drives Jonny and Nolan to continue these surveys. Jonny focuses on the idea of what one can do now to better the future for generations to come. "I'll be able to say to my family that I tried to make a difference", he proudly says. Nolan also emphasizes the significance of connecting back to his traditional roots and values. When asked about what he has enjoyed about conducting the surveys, he said, "[it's important to put] yourself out there for new opportunities, be conscious of the area that you're in, and think about how to give back to the land that you live in."
It is still early in the season for spawning, so the egg abundance counts are only just beginning. But seeing youth that are engaged and working hard towards the protection and restoration of their traditional territory gives assurance that the herring will return and continue to support the community of Howe Sound/Átl'ka7tsem.
Update to Blog: 2021 Herring Spawn Survey Results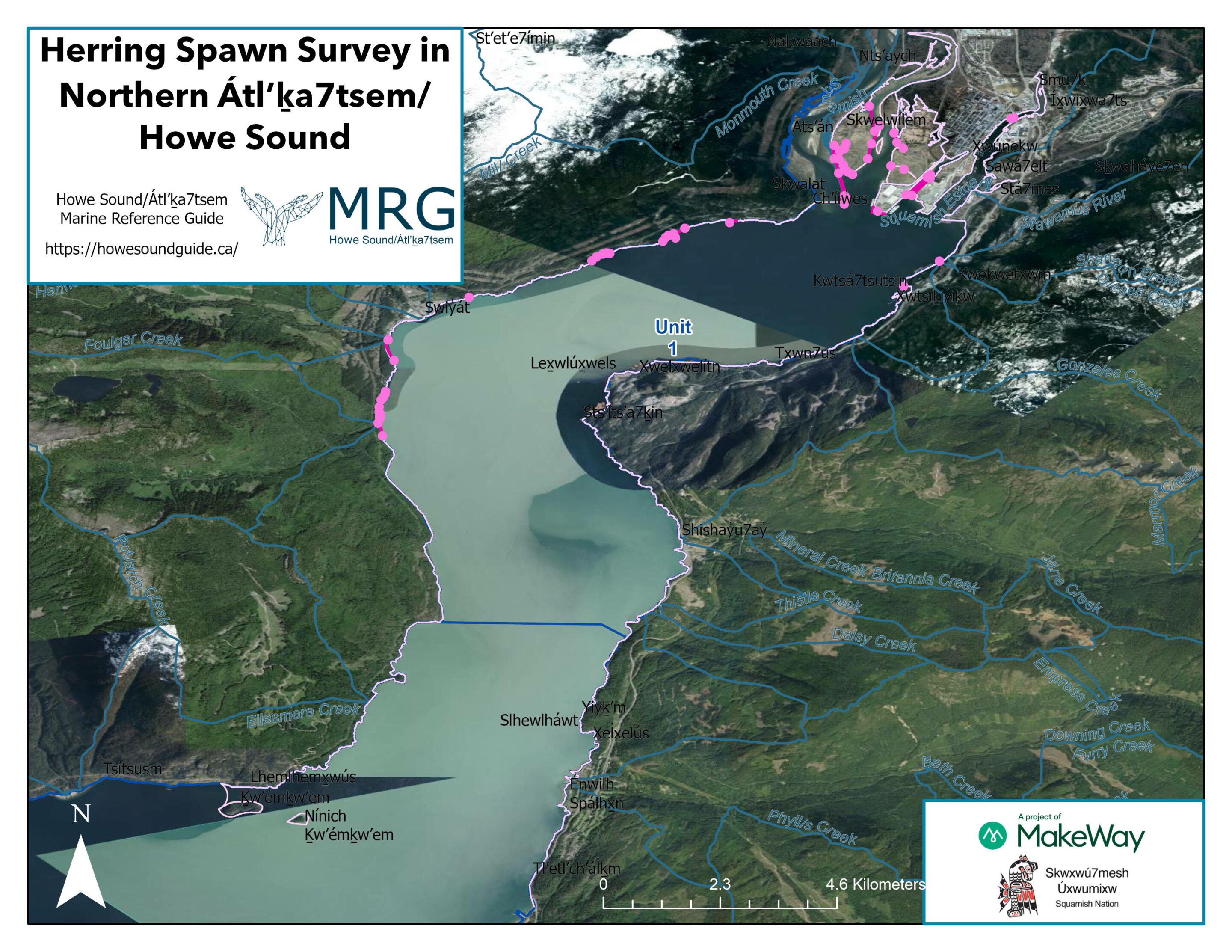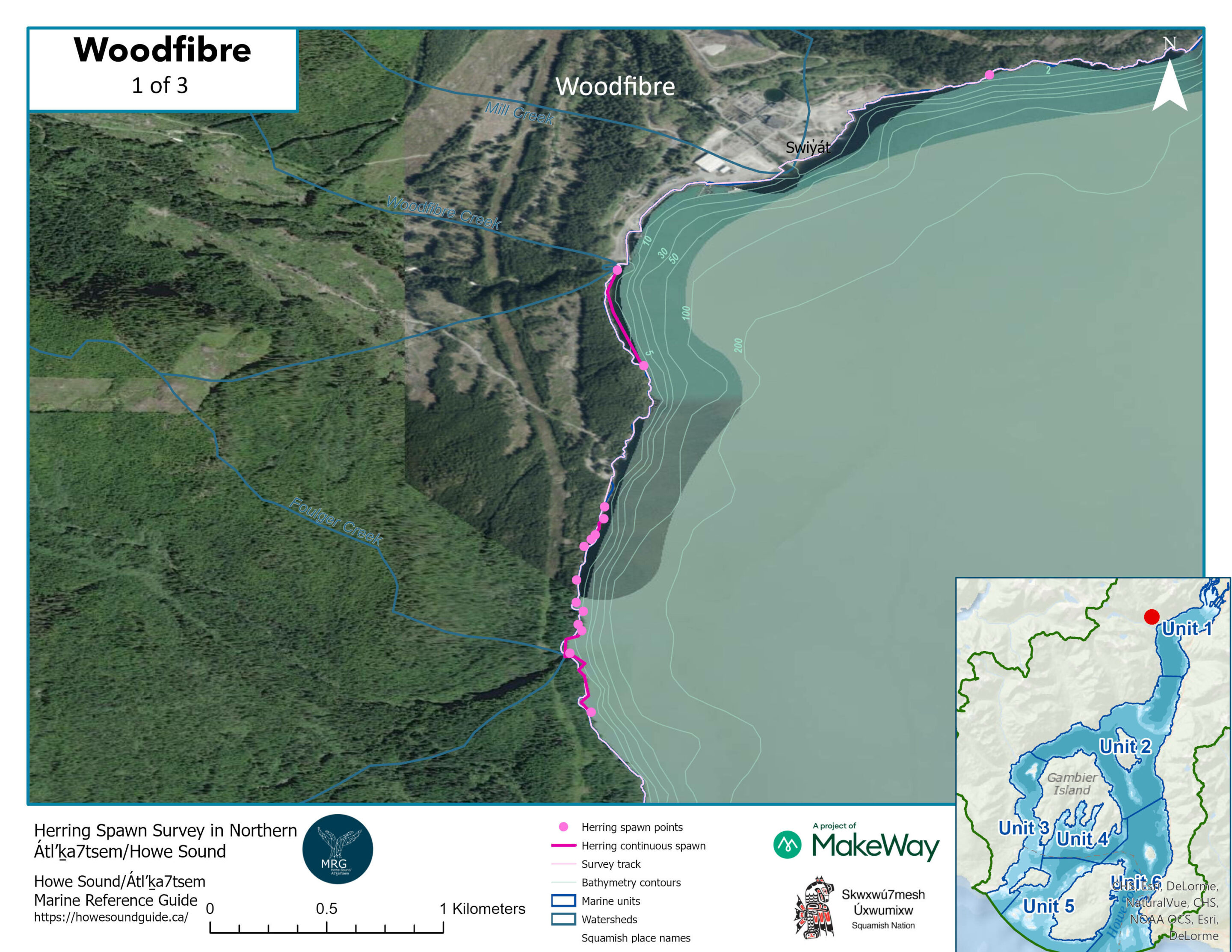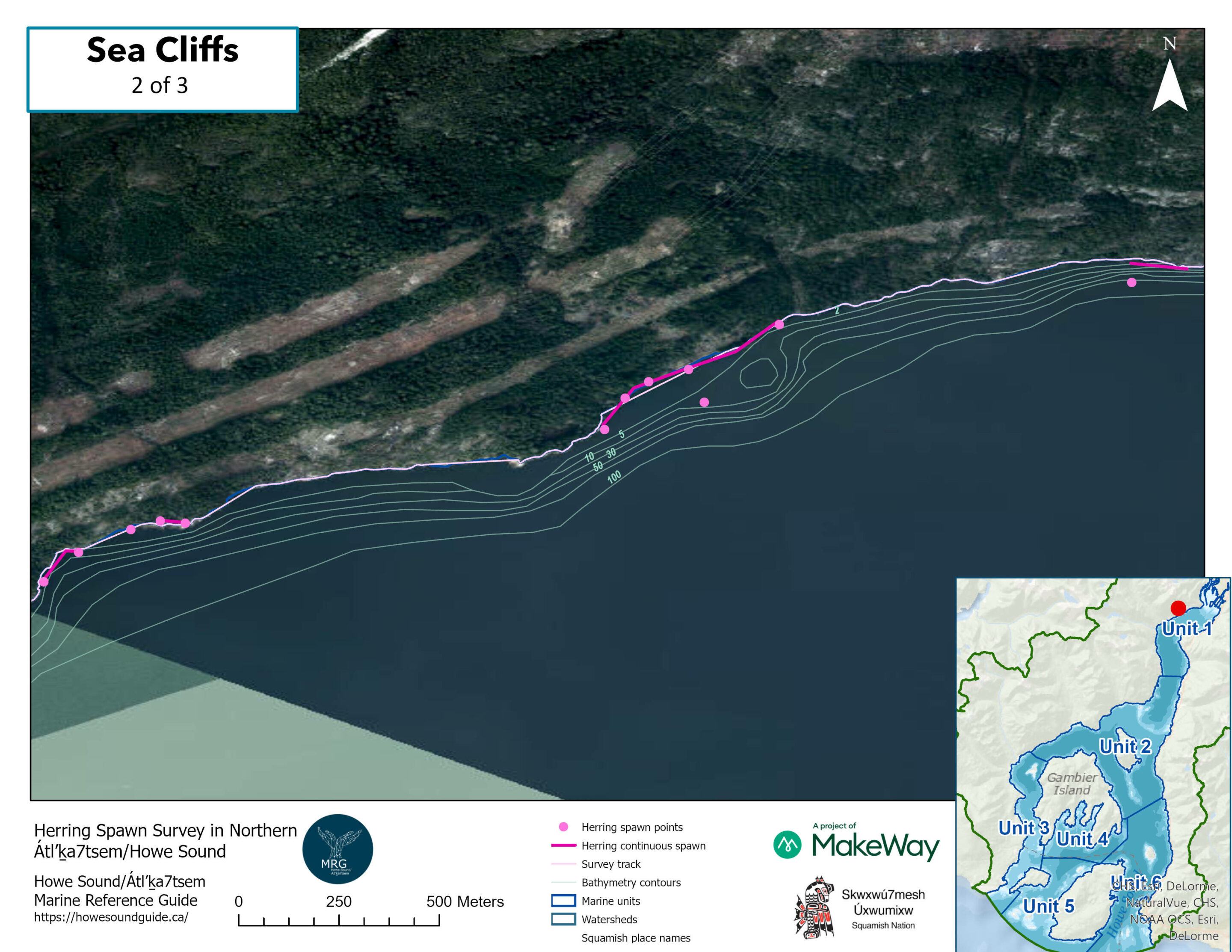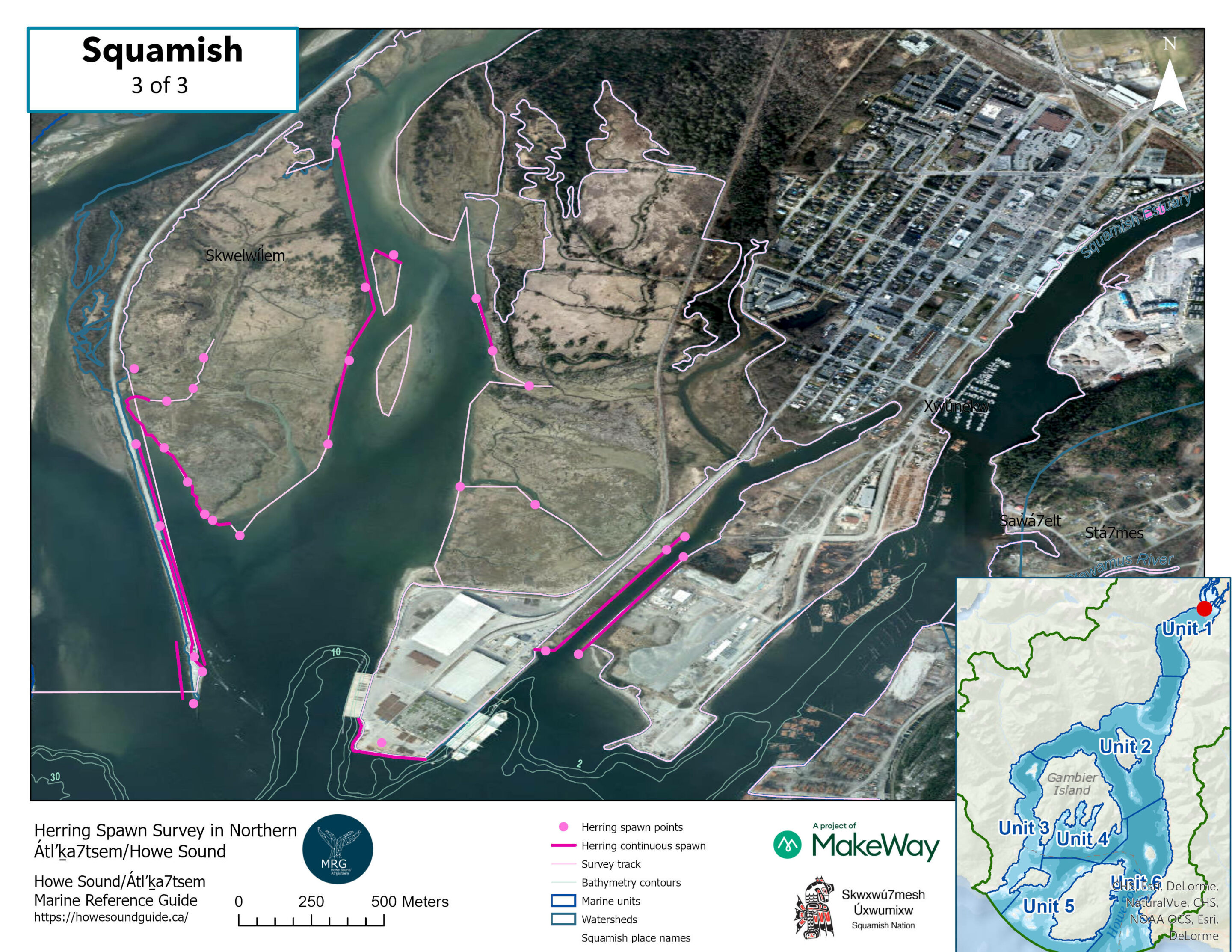 Maps created by Bridget John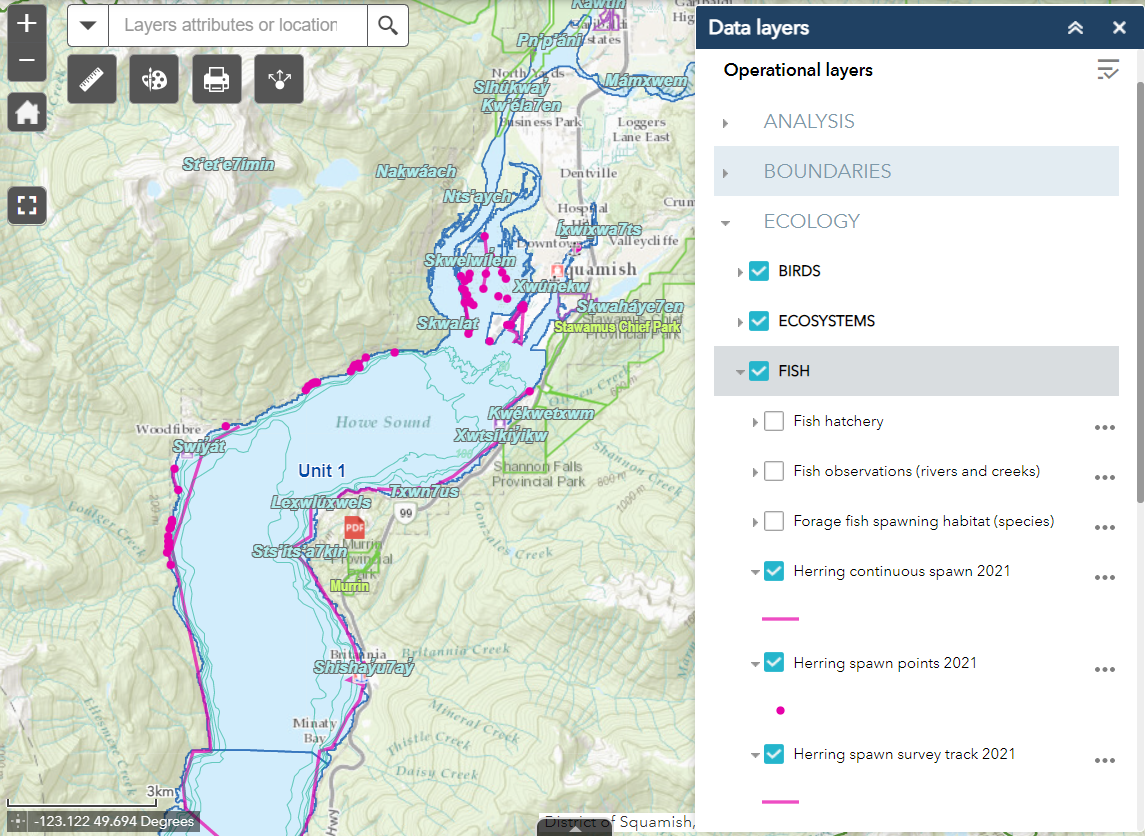 Click the image above to be taken to the online interactive map where you can interact with the data.