The slhawt' / herring spawn survey team have been hard at work. Here's a short update from Matthew Van Oostdam for March 25th to April 8th, 2022.
With regards to herring, the first ch'em'esh / herring spawn in Átl'ḵa7tsem of 2022 was documented on March 25th along the shoreline at Foulger Creek! We've also recently documented ch'em'esh along the shoreline north towards Woodfibre Creek. The April 8th survey results are shown below.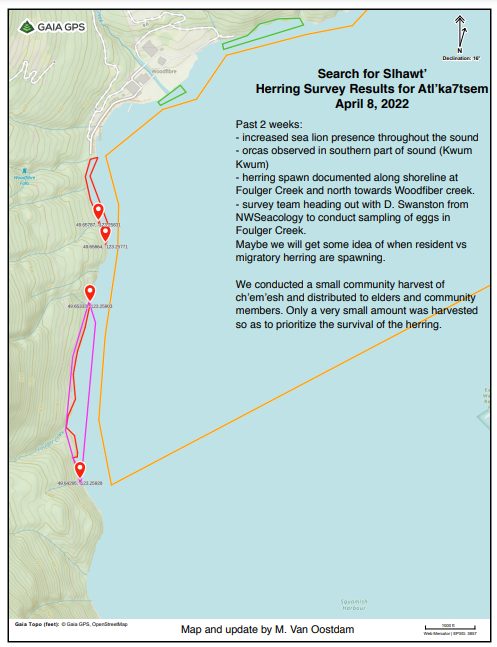 Herring Spawn Survey Update April 8th, 2022
On April 8th, the survey team headed out with Douglas Swanston from NW Seacology to conduct a sampling of eggs in Foulger Creek in order to get genetic samples from larvae. We hope to get some idea of when resident vs migratory herring are spawning.
Over the past two weeks, we've also seen an increased sea lion presence throughout the Sound. As well as orcas were observed in the southern part of the sound near Kwum Kwum /Defence Islands.
Check back soon for another update! To learn more about this herring spawn surveying work please see our page called Search for Slhawt' (Herring) by clicking the button below.