The Marine Stewardship Initiative wants to wish you a…

HAPPY WORLD OCEAN DAY!
In the spirit of this year's UNESCO World Ocean Day theme: Planet Ocean: Tides are Changing, we have created a project update package to highlight the collaborative initiatives that the Marine Stewardship Initiative has embarked upon over the past year. We hope this update inspires you to protect our treasured region's ocean and communities!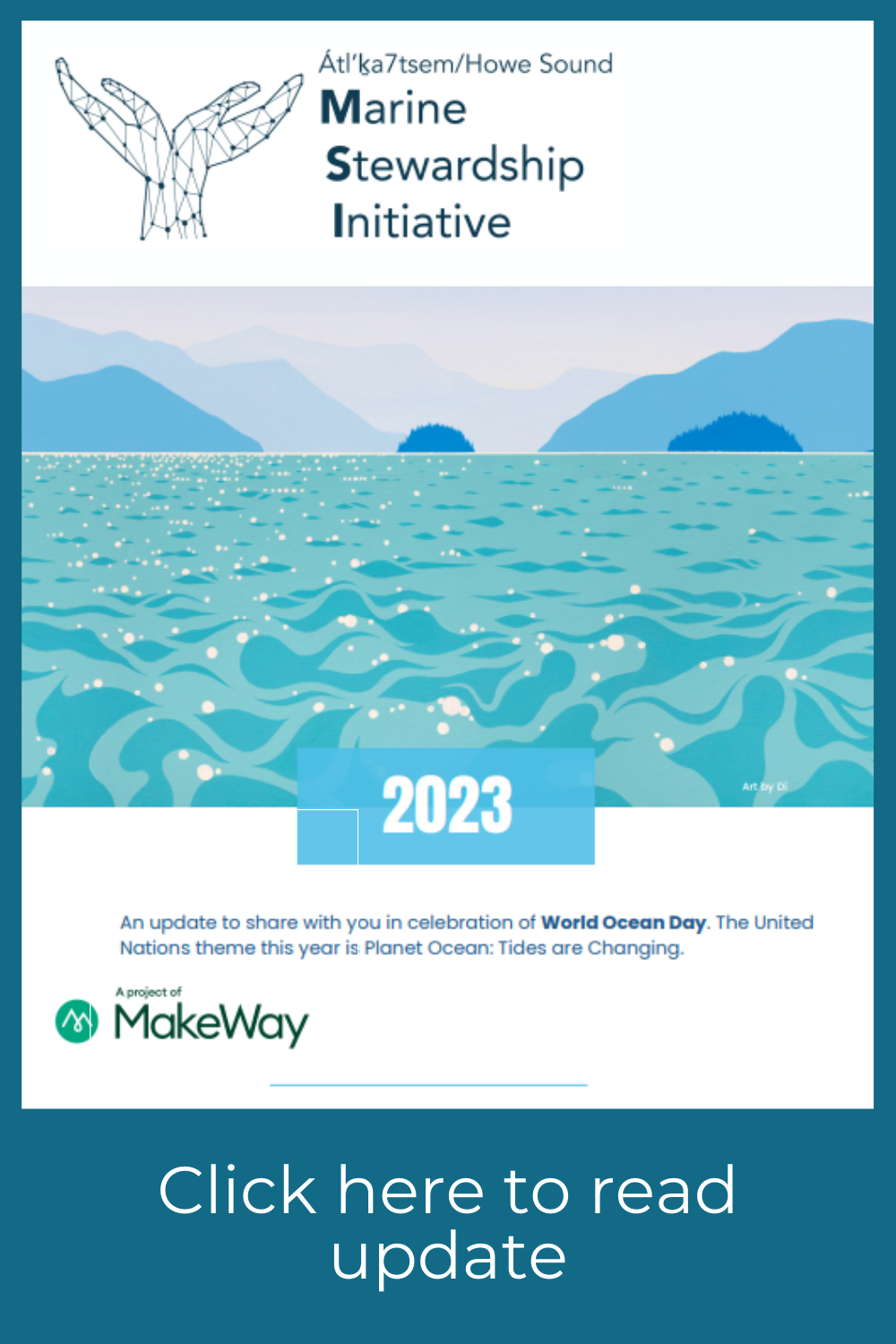 Thank you to all the supporters and contributors!
We would like to send a heartfelt thank you to some former team members, Courtney Smaha (former Project Director) and Bridget John (former Program Manager) who have stepped back from the project to take on other roles. Courtney has just started working with the Province of BC in the Marine Stewardship Branch with the Ministry of Water Land and Resource Stewardship. Bridget started early this year with Fisheries and Ocean's Southern BC Marine Spatial Planning program.
A Message from Courtney
"As my time as Project Director for the Átl'ḵa7tsem/Howe Sound Marine Stewardship Initiative comes to an end, I find myself overwhelmed with gratitude and fond memories of our incredible journey together over the past 1.5 years. It has been an honour and a privilege to work alongside, and share our activities with each and every one of you.

Together, we have achieved remarkable milestones, demonstrating the power of teamwork and dedication. Our herring surveys were not just successful, they were the embodiment of our collective passion for the health of our marine ecosystems. We embarked upon new endeavours, such as the Dungeness crab megalopae surveys, forging partnerships with the Hakai Institute and Sewells Marina, which will have a lasting impact throughout the UN Decade of Ocean Research. The launch of our marine debris reporting system on our website was a significant milestone, as it enabled us to actively engage the community and conduct impactful shoreline cleanups, removing thousands of tonnes of marine debris. Our exploration and understanding of kelp in our region has opened our eyes to the beauty and fragility of this vital marine resource. With the establishment of our Governance Advisory Committee, we have only just begun our work to use information housed within our Marine Reference Guide, to generate conversations about marine spatial planning in our region. I cannot wait to see what's ahead for this amazing project, and the brilliant minds behind it.

To my Steering Committee, colleagues, collaborators, volunteers, and all of you readers, thank you."

Courtney
Welcoming a New Project Team
With that, we would like to welcome our new Project Coordinator Melany Sanchez who has worked in environmental monitoring and assessment with the Province of BC and the Tsleil-waututh Nation. Melany will be working on many of the project tasks within our Strategic Plan and updating the Marine Reference Guide. Melany is based out of Vancouver. We are also happy to welcome back Nolan Rudkowsky as our Indigenous Research Coordinator. Nolan will be leading workshops, events, and supporting our research and monitoring. Nolan is based out of Squamish. Lastly, we would like to welcome Erica Olsen, who is a PhD student, studying ethnoecology out of UVIc, and is a current contractor for the MSI. Erica will be helping with our research program conceptualization and leading our Governance Advisory Committee. Erica is based out of Bowen Island and Victoria.
Search for Slhawt' (herring)
Now in its third year, the Herring team returned to the shores of Átl'ḵa7tsem in wetsuits to track the herring (Slhawt') that return from the open ocean in February and begin spawning. The team is now working to create a report and add the herring data to the Marine Reference Guide to document the 2023 season. Stay tuned for the herring update at the end of June! The herring team was also featured in the CBC What on Earth podcast on May 11 2023! Check it out here!
We are excited to see what we can achieve this year! Thank you for all you do to protect ocean health and community access in this cherished region!