Howe Sound/Átl'ka7tsem is a diverse region, full of life, rich in culture, and bustling with activity. Over the course of the Marine Reference Guide's past few years of building our decision-support tools, we have been asked many times the simple yet deceivingly complex question, "Who is doing what where", as it relates to the region's ocean. Since we have a soft spot for maps already with our online interactive map, we figured a spatial network map was the solution to this community need!
Creating a community map of the cacophony of organizations and groups who work in this region is no easy mission, but was a challenge that our team in partnership with Ocean Bridge Direct Action, an Ocean Wise initiative, was game to tackle.
Step 1
The first step was to create a list of groups who were connected to the region's marine and/or freshwater community. Through brainstorming, we came up with various organizations, from community groups that restore salmon habitat, to artists that paint the beauty of the Sound, to diving shops that invite you to explore the wonders of life under the sea! The list soon grew to over 150 organizations, and our next step was to group them into categories for the map.
Step 2
Categorizing the organizations was an especially challenging task because many organizations did not seamlessly fit into one single category. Instead, an organization may do community engagement and educational work, as well as host conservation-related projects. After many hours of deliberation and discussion, as well as reference to other community network maps and directories, we settled on the following categories and sorted each organization by relevance: Art & Culture, Climate Action & Renewable Energy, Community Engagement, Conservation & Advocacy, Consultants & Contractors, Education & Research, Government, Industry & Transportation, Media, Monitoring & Restoration, and Tourism & Recreation.
Step 3
Finally, we had a spreadsheet list of community organizations and their associated categories! But how does that transform into a map? Turns out, there are plenty of websites that can host online maps. After sifting through Google and testing out free trials from diverse options, we settled on a platform called Mapme. We customized our map design and layout, and then imported the spreadsheet into the map. And voilà! The points on the map seemingly magically appear, and fill the webpage with images of the teeming and bustling community.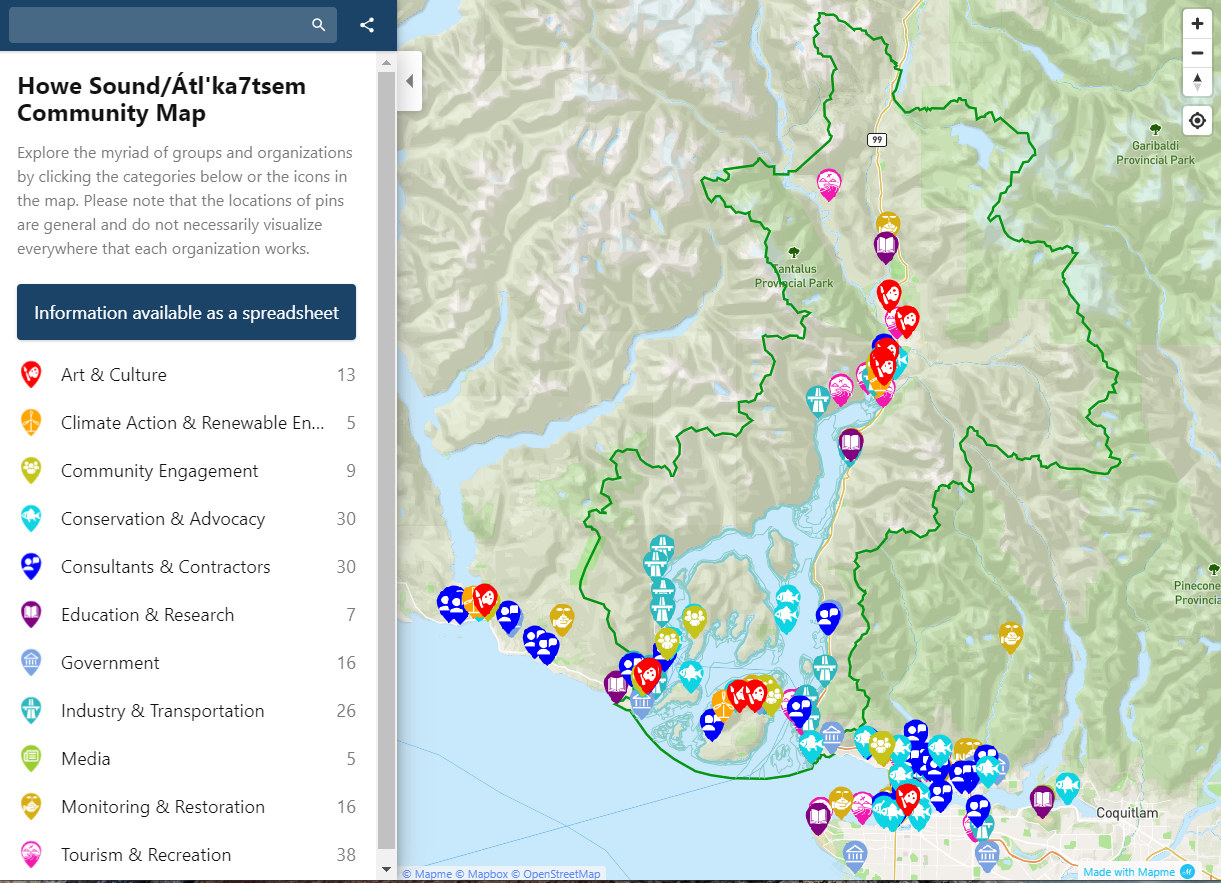 The purpose of the Community Map is to strengthen regional collaboration and networking, and increase awareness about the Marine Reference Guide across the Sound's community. The map can support research, partnerships, and build awareness and access to the many aquatic stakeholders and rights holders in the Sound. We hope that you will take some time to meander through and enjoy the map, and that it will bring you closer to the amazing community of Howe Sound/Átl'ka7tsem!
(If you're looking for our main online interactive map please click here)